Vincenzo Simmarano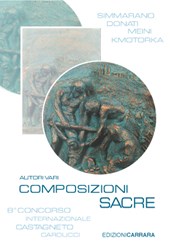 Sacred Compositions
Awards at the 8th Castagneto Carducci International Competition
Year of publication:
2006
Type: Vocale a 1 v. - Org. Vocal for 4 voices. - Org. Vocal for 4 voices. - Org. - Solo
Code: EC4693
Code: ISMN: M-2157-4693-3
This publication has been designed and realised in collaboration with the Castagneto Carducci (LI) council on the occasion of the triennial SS. Crocifisso Festival in the category of International and Sacred Music. To mark the 8th Edition, the council proposed the publication of the first 2 prizes in each of the two available categories : Cat A reserved for 4 mixed voices; Cat.B which provided for congregation participation.